Is Artificial Turf the Best Option for Playground Surfaces?
Terry has worked in a gardening-related industry for the past 18 years and has always worked hard to ensure his clients have the best experience...
The idea of using fake grass as a playground surface may not necessarily be an obvious one but there are a considerable number of reasons why you should seriously consider it as an option and could even be the ideal solution.
When it comes to artificial playground grass, there are a number of advantages that it has over other playground surface materials from being robust to almost being hazard free. In this article, we will look at the advantages as well as possible drawbacks of using artificial turf as your playground surface.
It is difficult to categorically say that artificial turf is the best option for a playground surface as much will depend on individual circumstances. It is though, without doubt, an extremely good option and should certainly be considered when making your choice. It is a safe, child-friendly surface, that is durable and cheap and easy to maintain.
What Is Artificial Turf for Playgrounds?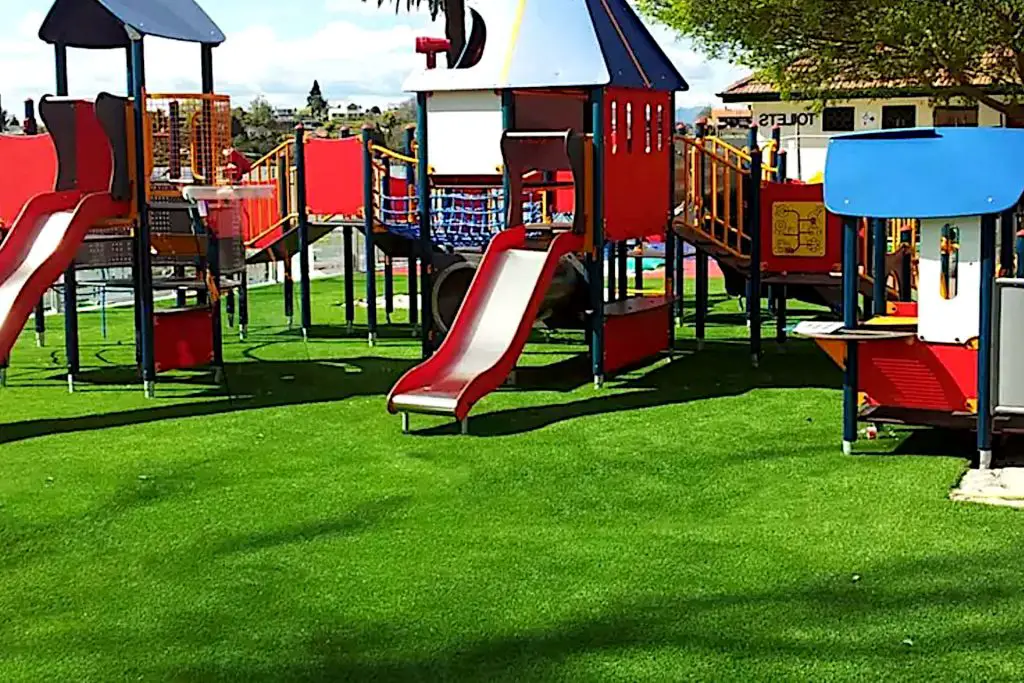 Artificial turf is a man-made surface made to look like natural grass. It is most often used in sports arenas and commercial playgrounds. However, it can also be found in public parks and residential yards. Artificial turf is usually made from recycled plastic or nylon.

The main advantage of artificial turf over regular grass is that it requires much less maintenance. For example, you don't have to water or mow it. In addition, artificial turf can be used all year round, even in cold weather when natural grass could become muddy with use.
Is It Safer than Other Playground Materials?
When it comes to playground safety, there are a lot of factors to consider. The type of surface your playground is built on is one of the most important considerations. One of the key advantages of artificial turf is safety.
Is it really any safer than other materials? In a lot of ways it is. It is soft and spongy for the inevitable falls that children have, yet is toxin free. Polyethylene is the most commonly used material for domestic artificial grass, which is also used to make many common everyday household items. 
Another key safety element is the ability to reduce exposure to bacteria. Provided it is regularly cleaned synthetic fibers will be free of bacteria that can linger on other types of surfaces such as natural grass or soft impact tarmac (asphalt). 
What is the Lifespan of an Artificial Grass Playground Surface?
So, how long does artificial grass last as a playground surface? Generally speaking, artificial turf will last between 10-15 years with proper care and maintenance. However, some higher-quality products may last up to 20 years or more.
The Durability of Artificial Turf for Playgrounds
Robust materials like artificial turf are key for playgrounds because they can withstand large amounts of foot traffic more easily than natural grass without damage. This is especially important for high-use areas like playgrounds, where divots and worn patches can form quickly with natural grass whereas artificial turf does not show signs of wear if maintained properly.
Most artificial playground turf surfaces are made from heavy foot traffic. The two most common types of material used to make synthetic fiber are nylon and polyethylene.
Nylon has a longer lifespan than polyethylene, but it is also more expensive. It is more resistant to climate change, and the strength of the fiber allows the blades to return to an upright position more easily, all of which can affect the installation's lifespan. Polyethylene grass fiber is less durable than nylon but less expensive, lowering the initial installation cost.
Padding Systems for Artificial Playground Turf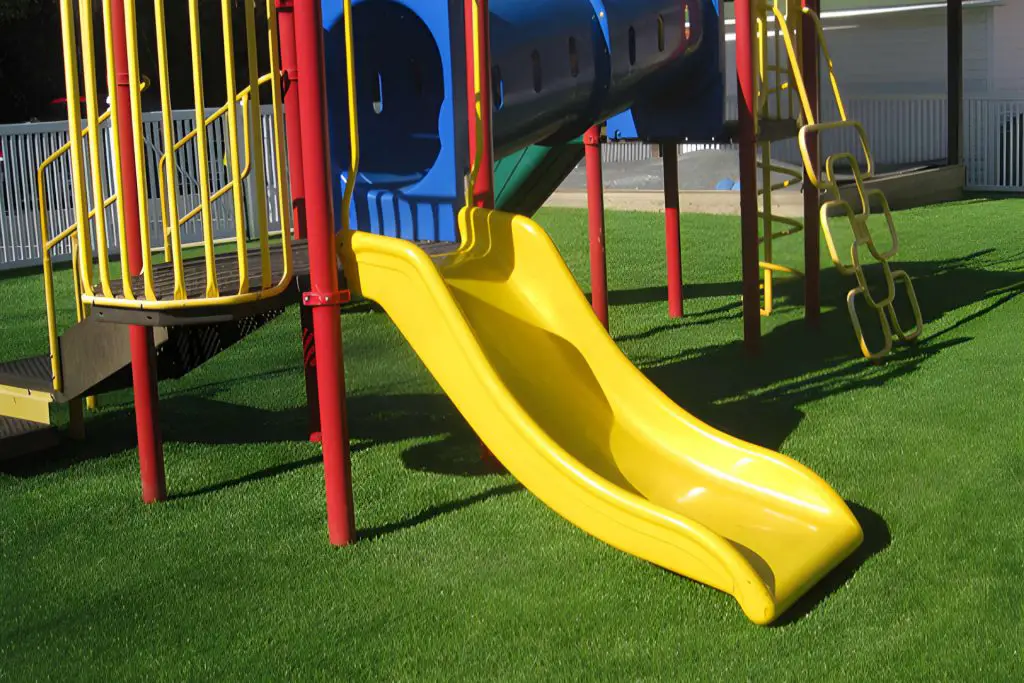 Padding systems are an important part of any artificial turf installation, especially when the turf is being used for playgrounds. There are many different types of padding available, so it is important to choose the right one for your project.
Synthetic turf installations should always include a shock-absorbent layer to protect children from falls. The thickness of the padding system will vary depending on the type of turf it is being used for. For example, a padding system for an indoor turf would be much thinner than one for outdoor turf.
How Artificial Turf for Playgrounds Minimize Allergies
If you have allergies, chances are you're always on the lookout for ways to minimize your exposure to things such as dust and pollen, that trigger your symptoms. If you have a child with allergies, finding a safe place for them to play can be even more challenging. Traditional grassy playgrounds can be full of pollen and other allergens that can cause problems for people with asthma, hayfever, and skin allergies.

Artificial turf is one solution that can help create an allergy-free environment for children to play in. Because it is made from synthetic materials, there is no pollen or other harmful chemicals present in artificial turf. This means that there is no risk of an allergic reaction or asthma attack triggered by playing on artificial turf.
Artificial Turf for Playgrounds Is Cleaner
Surfaces like concrete, asphalt, and woodchips can harbor all sorts of bacteria and can be difficult to clean. Artificial turf for playgrounds is a cleaner option because it can be easily washed and watered. The turf also neutralizes odors and has fewer bacteria.
Nearly every parent can attest to the fact that playgrounds are magnets for dirt and grime. And while a little bit of dirt is good for kids, too much of it can lead to sickness and infections. That's why more and more schools and playgrounds are opting for artificial turf instead of other surfaces like natural grass, soft impact asphalt, or wood chips.
Artificial turf is much easier to keep clean than other surfaces. It can be simply washed with soap and water, and all the dirt and grime will come right off. Other surfaces are not as easy to clean, and require special cleaners that can be expensive.
In addition, artificial turf does not hold onto bacteria like other surfaces do. Because it is so easy to clean, there is no build-up of bacteria on the turf. This means that kids are less likely to get sick from playing on artificial turf.
Customize Your Turf to Fit Your Requirements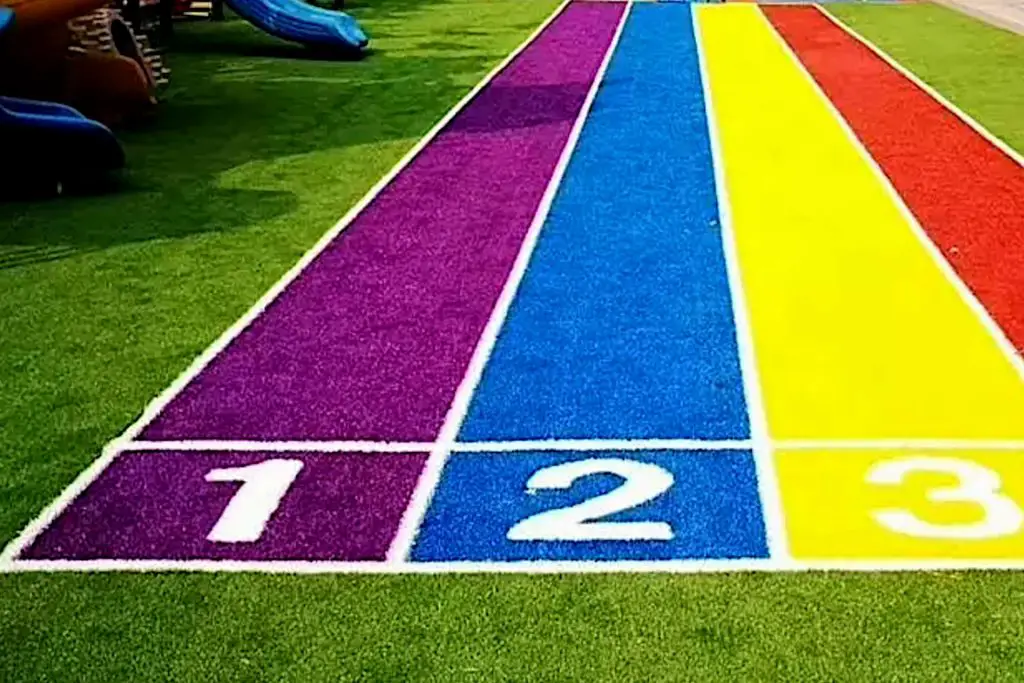 When it comes to playgrounds, the options for soft surface materials are many and varied. Synthetic grass is one popular option that has a lot of advantages over natural grass, especially when it comes to playgrounds. Here are some of the benefits of installing synthetic grass with playground equipment:
1. Unlike fragile natural grass blades, heavy playground equipment won't crush or damage synthetic turf. As a result, you can easily turn your backyard into a mini park! You can install everything from swings, teeter-totters, climbing frames, slides, and whatever else you think your kid will love.
2. They are great for children with disabilities or mobility challenges or do they have friends who do? It's easy to add accessibility features to an artificial lawn, such as ramps, and support bars.
3. In terms of design, there's no limit to what you can do with synthetic turf. If you are fortunate to have plenty of space You can create all sorts of fun zones and themes, like a pirate ship or dinosaur kingdom.
4. Children are drawn to sensory details like taste, touch, and smell. You can customize your play zone to incorporate these ideas. Sensory features such as a ground fountain, sand pits, or a mini vegetable garden can be designed in.
5. Artificial turf comes in a variety of colors to help brighten up the surface and separate and create zones in the play area. 
Installing soft surface playground equipment has a lot of benefits that will make your backyard the envy of the neighborhood.
Less Time and Money Spent on Maintenance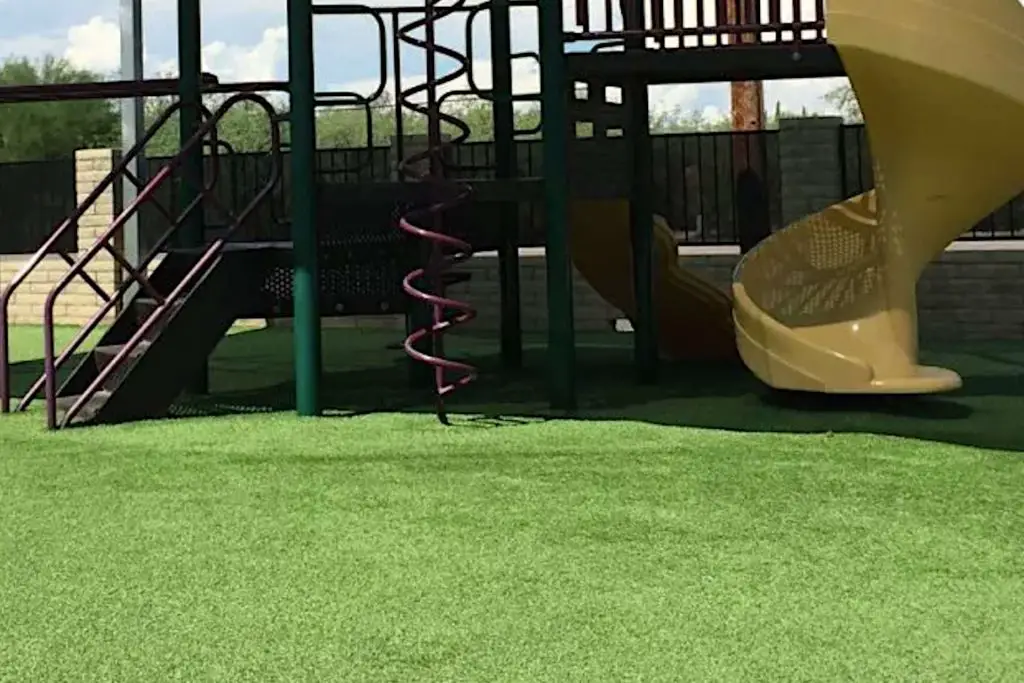 There are many benefits to using artificial turf on playgrounds. It is low maintenance, meaning there is no need to regularly mow or water it as with traditional grass. It also doesn't develop divots, which can cause r children to trip over or fall when they play. Artificial turf is also solid and long-lasting, so it can withstand heavy foot traffic without showing signs of wear and tear.
However, it is not maintenance-free and does require some maintenance in order that it will remain free from bacteria, always look good, and ensure it reaches if not prolongs its usable lifespan. The good news is that the emphasis is on the regular rather than the difficult and generally only requires a cleaning program with the occasional deep lean. 
Disadvantages of Artificial Turf For Playgrounds
There are many advantages to using artificial grass for playgrounds but there are a few disadvantages and some questions that also have to be raised.
Cost
The initial outlay is likely to be considerably more than using regular grass although over the longer period the savings are going to come in terms of maintenance. But in comparison to soft impact tarmac rubber surfaces, synthetic grass is in itself the cheaper and possibly more practical solution.
Cleaning The Turf
It is probably harsh to call this a disadvantage because the ease with which you can clean it is an advantage over other surfaces. However, the fact remains, particularly with children you need to keep the surface clean to avoid bacteria build-up.
Heat
Another disadvantage can be heat. Synthetic fibers tend to retain heat and during hot summer days, the surface temperature can rise to as high as 175°F whereas natural grass would get up to around 90°F.[1] The secondary issue with the surface heat is that it increases the surrounding air temperature meaning the area of the playground would be hotter than elsewhere in the garden.
In truth, you can substantially cool down synthetic grass, bringing it much closer to the temperature of real grass, through watering and you are probably highly unlikely to allow children to play outside in extreme heat whether on an artificial, natural grass, or any other surface
Infill
Your synthetic grass will require infill to keep the synthetic grass blades in an upright position. There is various infill that you should avoid such as crumb rubber which has health question marks over it as it is made from recycled tires.[2]
The are numerous other options from silica through to zeolite with silica probably being the best choice. Virgin rubber infill is another possible option for an infill, although with very young children you may worry about them putting it in their mouths. 
Summary:
There are a few things to consider when making this decision. First, you need to think about what type of playground you have.
If you have a public playground, then artificial grass or synthetic turf may be your best option. This is because these materials can withstand heavy use and traffic without showing wear and tear as quickly as natural grass would.
Notes:
Gardening Latest.com, Keith Hardy: How Much Water Is Needed to Cool Down Artificial Turf? Ways to Cool Synthetic Grass
U.S. Environmental Protection Agency: Federal Research on Recycled Tire Crumb Used on Playing Fields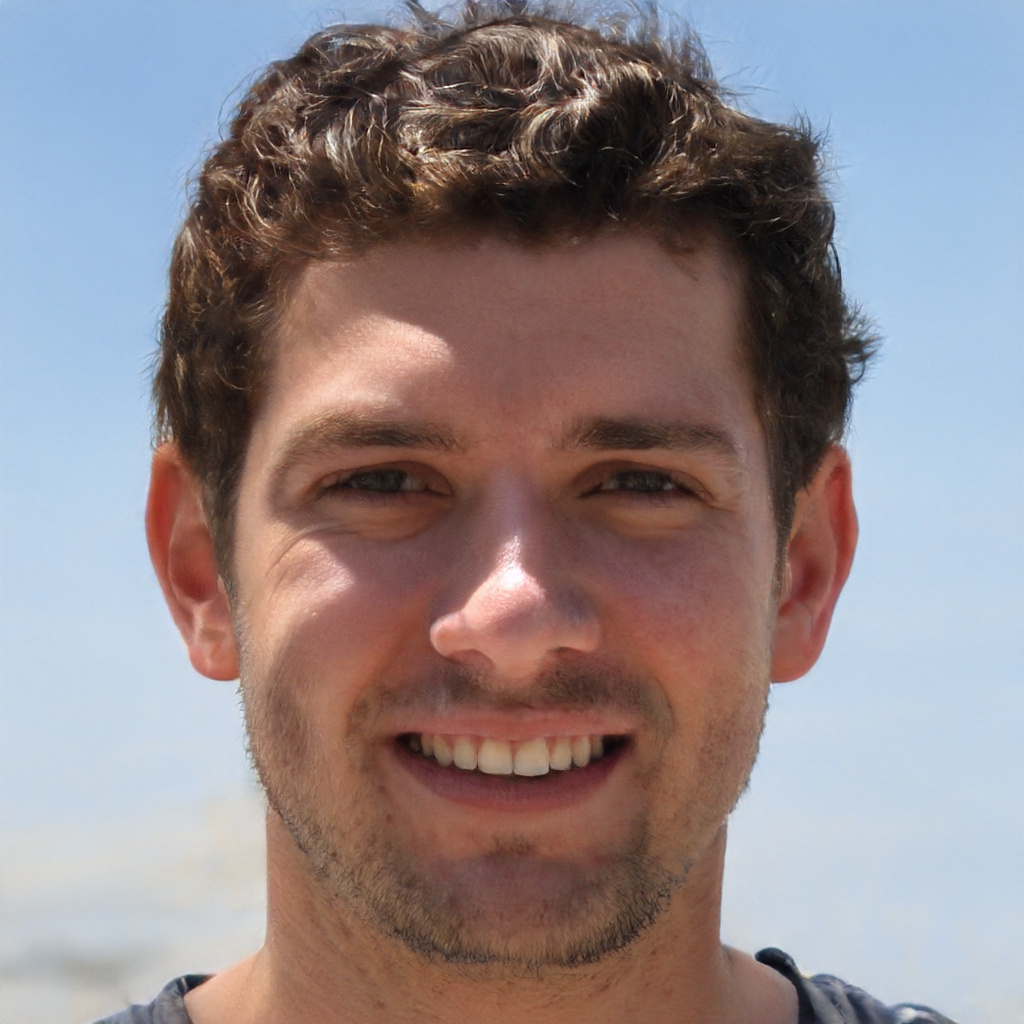 Terry has worked in a gardening-related industry for the past 18 years and has always worked hard to ensure his clients have the best experience possible. He understands that every garden is unique, and he takes pride in creating something special for each client. He aims to create an environment where they can relax and enjoy themselves while working in their gardens. Read more
More Posts