Creating a DIY Jungle Gym In Your Backyard for Your Kids
Keith has been involved in the gardening and landscaping industry for the past 21 years. From a jobbing gardener to running his own landscaping services....
Gardening Latest and its partners may earn a commission if you purchase a product through one of our links.
If you have kids, then you know how important it is for them to have a place to play and explore. A jungle gym is the perfect backyard addition for your little ones. Not only will they have a blast climbing and swinging, but you'll also be giving them the opportunity to get some much-needed exercise. Plus, it's a great way to get the whole family outside to enjoy the fresh air.
The extent of your involvement is entirely down to you yourself. You can limit your involvement to the creative side, planning and designing your space, or if you are good with your tools you could build the whole theme and scenery around the equipment yourself.
Even though it is a great DIY project, you are probably unlikely to want to build the actual play equipment as generally, for safety reasons, it is better to buy approved play equipment. Beyond that, after creating the design, you can involve yourself as much or as little as you want, depending on your woodworking skills and budget.
What is a Jungle Gym?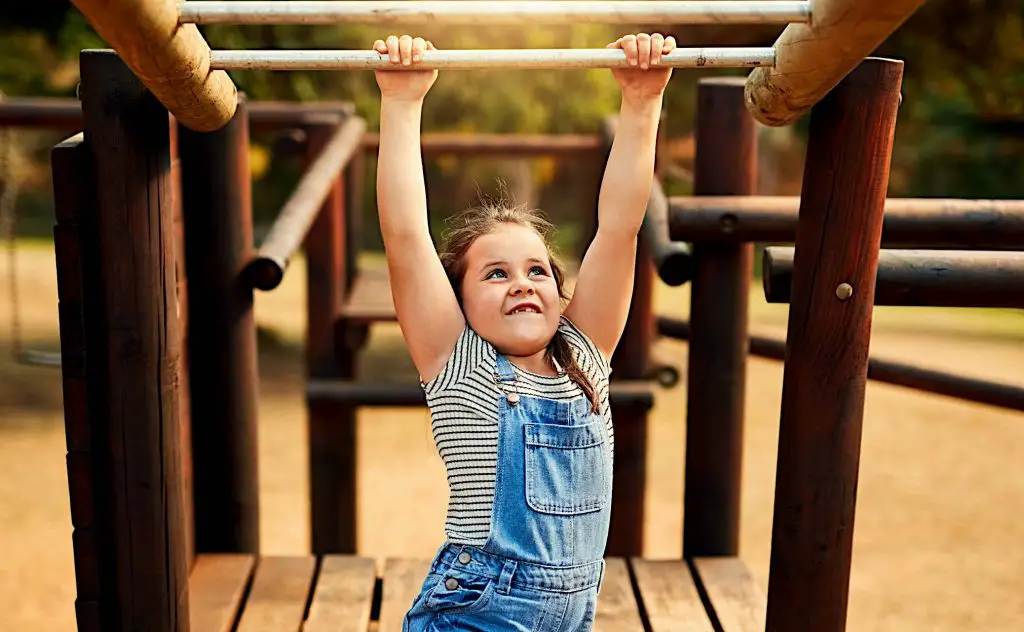 A jungle gym gives children the opportunity to engage in activities similar to those enjoyed by Tarzan when he was in the jungle, such as climbing and swinging. However, jungle gym has become a catch-all phrase for connected play equipment. It doesn't have to be 'jungle' related and can be themed in any way you want, from pirate ships to castles.
In its most basic form, it is a structure that can accommodate the simultaneous usage by several children and consists of vertical beams, monkey bars, and other pieces with varying attachments.
Being connected it doesn't just consist of a single swing set or a climbing structure that stands on its own; rather, it is a construction that assembles several different pieces of traditional playground equipment into a single unit. As such, jungle gyms can be created in a myriad of forms and dimensions, whatever you have the space and imagination to build.
Jungle Gym Design
The first thing you have to consider is the design. They are often built in the shape of a cabin, castle, tower, private ship, or other fantasy buildings. When it comes to choosing the concept that is right for you there are two approaches: buy a pre-made set of plans or let your kids' imaginations run wild and design it yourself. If you go the latter route, here are a few things to keep in mind.
Measuring Accurately
First, consider the theme you are planning in relation to your yard. Ensure that it can provide ample space for your kids to play without taking up too much space. It is important in this respect to measure accurately as a mistake at this point can be hard to correct later when you find that the design won't quite fit.
Play Equipment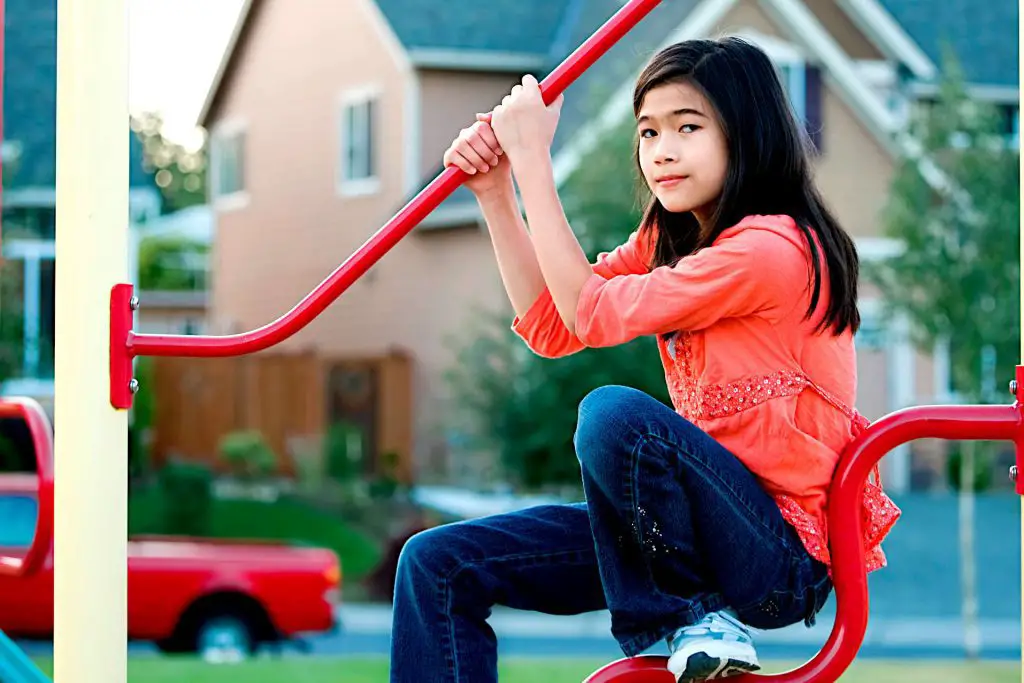 Next, think about the equipment that you are going to incorporate. These are the essential components of any jungle gym.
Consider what your children most like to play on. Do they like swings, climbing frames, see-saws, or slides?  Then add other elements such as rope ladders, tire swings, and maybe even a treehouse if it suits your theme. Try to come up with the elements that will keep them happy.
Pre-Designed Plans
If you decide to buy a pre-made set of plans, make sure to check that all of the pieces will fit together properly before you start building. This is especially important if you will be using a kit of parts from several different sources. Also, remember that the bigger the piece, the harder it will be to move once it is assembled.
Making a List
It is important at this point to make an accurate list both in terms of material and equipment required. A detailed design helps with accurately compiling your list. Not only will this help in terms of proper budgeting it will also help to make sure you are not short of parts or materials at a crucial juncture of the build.
Limiting Factors
It is likely that there will be a number of limiting factors that you should consider in the design phase. It is crucial to accurately measure and assess the space you have available and plan accordingly.
Run Off Space
It is all too easy o forget that you will require ample access and run-off space around the design. You want to allow several feet of space all around the structure to allow for this.
Safety Features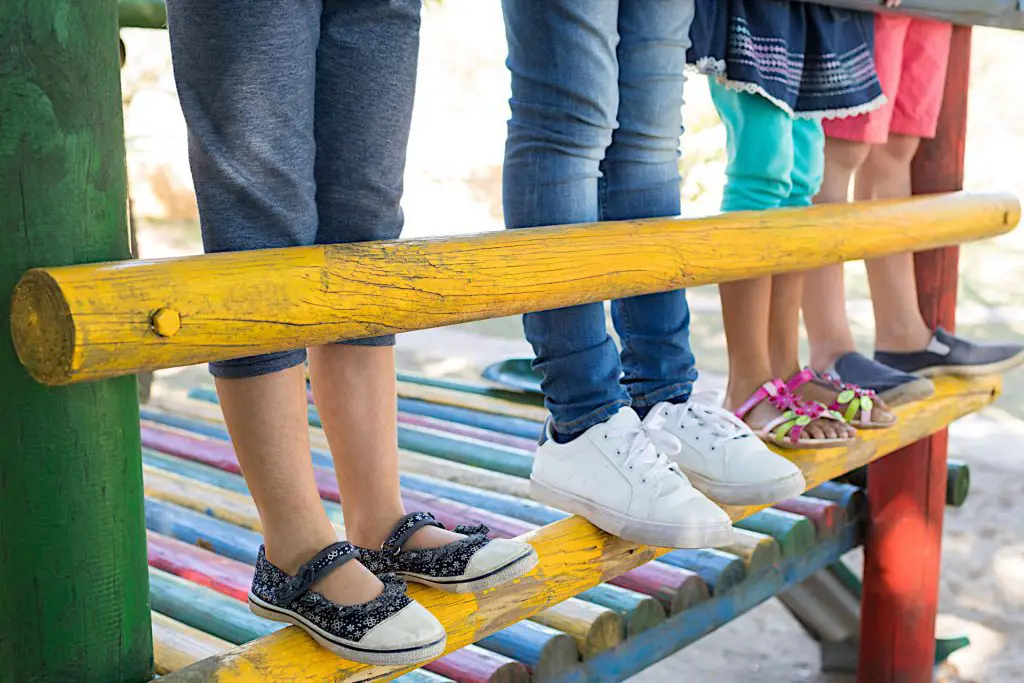 Secondly, safety should be uppermost in your mind. You should make sure you design adequate safety features into the plan. A jungle gym inevitably involves some sort of climbing so make sure you have soft landing zones such as sand pits under climbing zones. is crucial. 
Safety can also come down to smaller details. Make sure the structure is safe for use by children of all ages. If you plan on using it for younger children, be sure to use non-toxic paint and adhesives, such as glue and tape. Avoid sharp edges on the structure. Lastly, if you have a way to provide some form of shade it will aid the children's enjoyment.
Play Area Surface
It is also important to consider the surface that the play equipment stands on and the immediate surrounding area. Hard surfaces such as concrete should be avoided as they can cause injury. On the other hand, grass can suffer from the extra traffic the area is likely to see, is also subject to the vagaries of the weather, and is a problem for children with pollen allergies.  
A rubberized asphalt surface is a good choice if your budget can run to it. If you need a cheaper option then artificial turf for playgrounds is just as good and can be incorporated into the design theme. Both options are all-weather, bacteria-resistant, and child friendly. 
Your Skill Level
In order to avoid a half-finished project, you should temper your design flair to suit your skill levels. This is less of a problem if you are contracting the building out but if you are doing it yourself it is important that you don't get too stuck. 
Size of Available Space
Obviously, space can also be a limiting factor but you can always look to build up rather than out to make the best use of the space you have. If you are near a sturdy tree you could think about connecting a treehouse to the design.
Local Zonal and Planning Regulations
It is always advisable to check with local zoning and zoning code enforcement regulations before starting this project, as a permit may be required if the structure extends beyond a certain height or width.
Materials and Tools
Having decided on the design, you need to choose what kind of materials you would like to use. The options include metal, plastic, wood, and composite. Each material has its pros and cons. For example, metal is durable, but it is heavy and expensive. You also need to consider durability and the extent to which weatherproof materials or weatherproofing will be required. 
Once you have decided on the materials you are going to use to construct you need to assess whether you have the right tools for the materials that you have chosen.
The Right Materials
Use lumber that's strong enough to hold up under heavy use over long periods of time, but soft enough that it won't splinter or crack when hit by small objects like balls or swings. Use 2×4 lumber if possible; this is usually less expensive than 3×6 and will still be strong enough for most uses.
It is at this point you will see the benefits of creating a detailed plan with a list of the materials and components needed. The last thing you want is to be chasing around for additional metal wood brackets or find you are short of vertical posts or other materials.
If part of the structure has a roof then it should be constructed from weather-resistant plywood with shingles nailed on top to keep rain from leaking through any gaps between individual pieces of wood. Shingles can be painted over with any color you choose that will match your theme.
Use screws instead of nails whenever possible — they're easier to remove and won't work their way loose over time (unless nailing directly into wood). Use galvanized nails where necessary; they're stronger than regular ones and will not corrode.
The Right Tools
The tools that are needed will depend to a large extent on the construction materials that you are going to use. The tools required will depend on the materials you have chosen but if you are creating the props from wood materials then a good power drill and other woodworking power tools are going to be essential. If you are thinking of personally undertaking the build then it is a good chance to refresh your tool kit.
Construction guide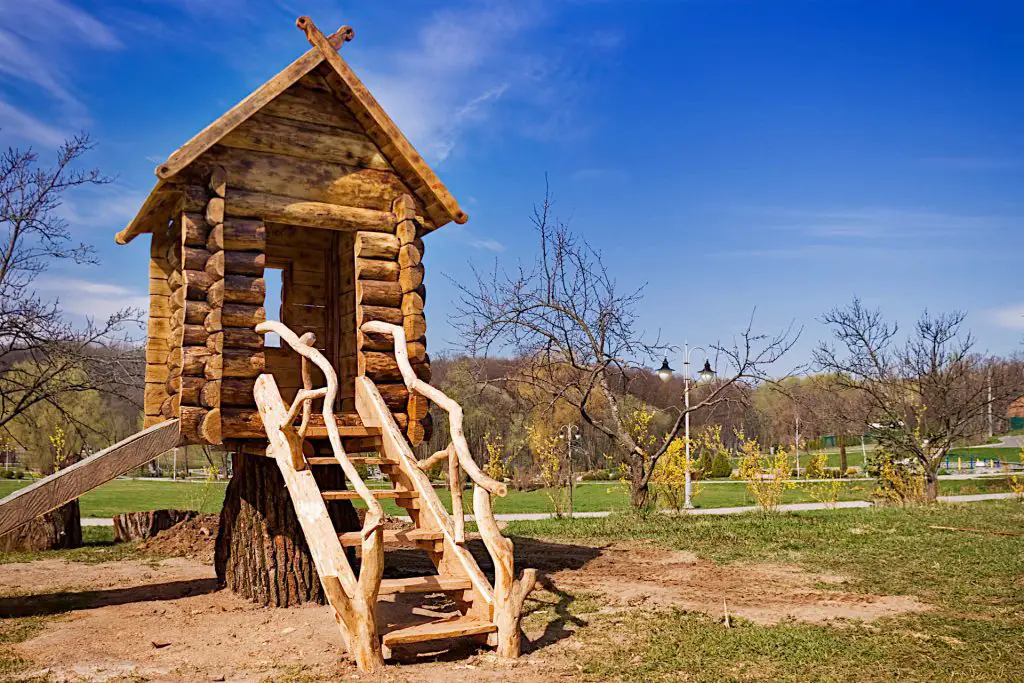 Plan your theme
Decide on the play equipment you will use
Draw out a plan with how the equipment will be arranged
List out materials and supplies that will be needed
List out the play equipment needed
Order materials and
Optional
Work out the tools and equipment need for construction
Build props scenery / Contract out the building work
Summary: Creating a DIY Jungle Gym In Your Garden for Your Kids
There are of course many ways to build a jungle gym. To be successful look to concentrate on the design and the scene setting and purchase the equipment that you need. You then have the option to bring in a contractor or if you are confident enough build it yourself. However, don't be afraid to bring in a carpenter to help you with any of the trickier elements of the build.
The advantages of creating a DIY jungle gym are many for both you and your kids. From a child's perspective they are a great way to build their confidence and self-esteem and at the same time develop their strength and balance. They are fun and safe, as well as provide exercise for your child it allows them to use their imaginations while they play!
From your perspective, it can be an awesome project to undertake and when finished you will get great satisfaction. Indeed, it can be a conversation piece if you have guests around and can help keep your children entertained if you are having a barbecue. Finally, it is a good way to get them away from their video games and reduce screen time!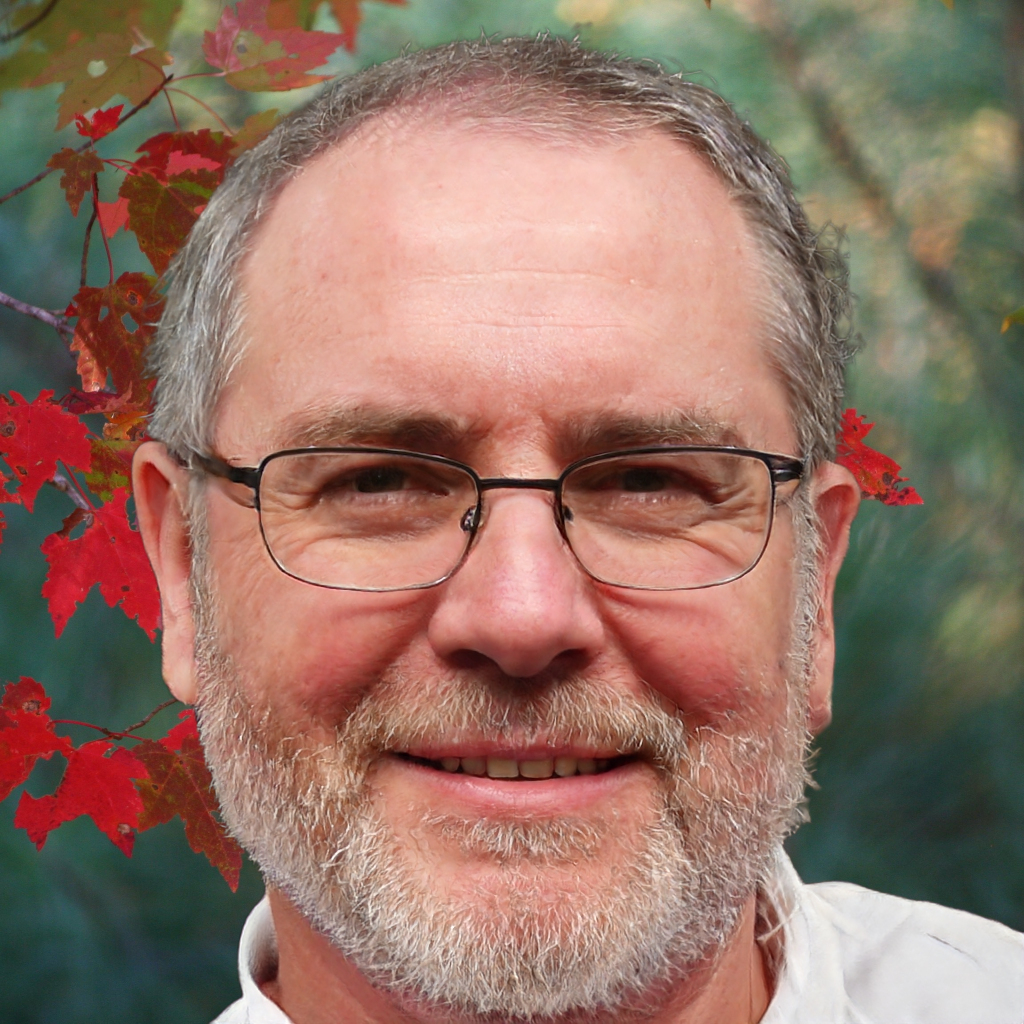 Keith has been involved in the gardening and landscaping industry for the past 21 years. From a jobbing gardener to running his own landscaping services. He is now dedicated to bringing you the latest in gardening news. Read more
More Posts