11 Proven Ways to Speed Up Grass Seed Germination
Keith has been involved in the gardening and landscaping industry for the past 21 years. From a jobbing gardener to running his own landscaping services....
Gardening Latest and its partners may earn a commission if you purchase a product through one of our links.
Waiting for your grass seed to germinate can be frustrating at the best of times. If you are looking to seed a lawn but are up against the clock before colder weather strikes it becomes a more pressing issue. It is in this situation where you might well need to learn how to speed up grass seed germination.
The good news is that, without too much effort,  and a few tweaks to your planting process that you can make, you can speed up the time and germination rates of your seeds.
The germination process depends on several different factors, such as climate, soil, and the type of grass seed. It can take anywhere from four to eight weeks or more for the grass to be ready for its first mow. If you are time-pressed you need to be looking at trying to get your grass to this stage closer to the four-week mark.   
Prepare the Ground for Quicker Germination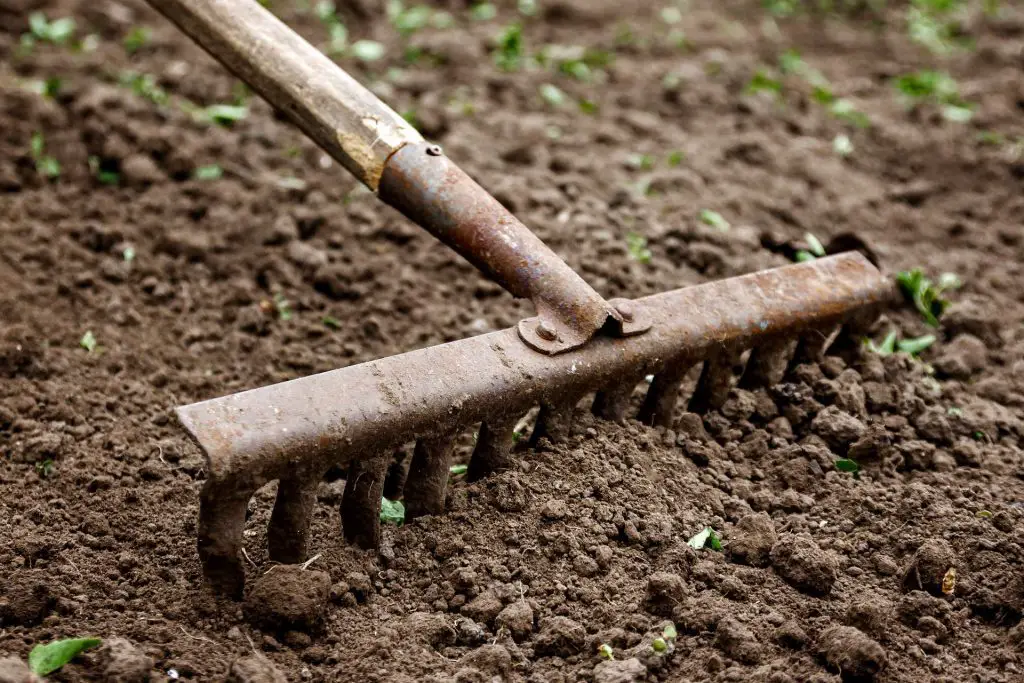 Proper ground preparation is crucial to the germination process, ensuring the soil is in the best possible condition will help ensure that the seeds have the greatest chance for fast germination. Soil types vary but heavy clay soil should be well aerated, tilled, and mixed with peat moss or sand to help improve drainage.
One of the most effective soil preparation techniques for planting grass seed is verticutting. A verticut creates grooves in the soil which allows for better seed-to-soil contact which in turn helps germination rates.
Good preparation creates loose soil. Loose soil ensures that root development isn't hindered as it allows the roots to drive down more deeply into the soil. This allows them to access more of the nutrients and moisture they need to thrive. It will also ensure that your watering will not pool and seep down.
The Right Type of Fertilizer
When seeding a lawn the type of fertilizer matters. The fertilizer you need to use for new seeds will differ from that you would apply to an established lawn. With seeding, you need a high level and fast release of nitrogen together with high levels of phosphorous. Nitrogen will speed the top growth, phosphorous will strengthen the root system and potassium will help fortify against the colder weather.
These nutrients, referred to as NPK, are expressed as numbers on fertilizer sacks.  You need to look for what is referred to as a starter fertilizer. This is a quick-release fertilizer where the nitrogen is distributed immediately to the soil.  
Another thing to consider is the type of grass you are planting. Different types of grasses have different fertilizer needs. For example, if you have cool-season grass like bluegrass or fescue, you'll need a fertilizer with higher nitrogen content. On the other hand, if you have warm-season grass like Bermuda or zoysia, you'll need a fertilizer with less nitrogen. [1]
Adjusting the Fertilizer Numbers to Accelerate Germination
To get the grass to germinate at the quickest possible rate you will have to put down slightly more nitrogen than you might normally do. Normally, when seeding you would put down ½ to 1lb of nitrogen per 1000sq ft. You should look to increase this to 1½lbs per 1000sq ft.
You need to be careful though as any more than 1½lbs per 1000sq ft could have a detrimental effect on the seeds. Always conduct a soil test prior to fertilizing to ascertain the current levels of nutrients in the soil so as not to apply too much. 
Usually, you would use starter fertilizer with a 3-4-2 type ratio such as 18-24-12, and work out the amount needed from the fertilizer numbers to get 1½lbs per 1000sq ft accordingly. In this case, 18% of a 50lb sack is nitrogen so each sack contains 9lbs of nitrogen. 
Soil Temperature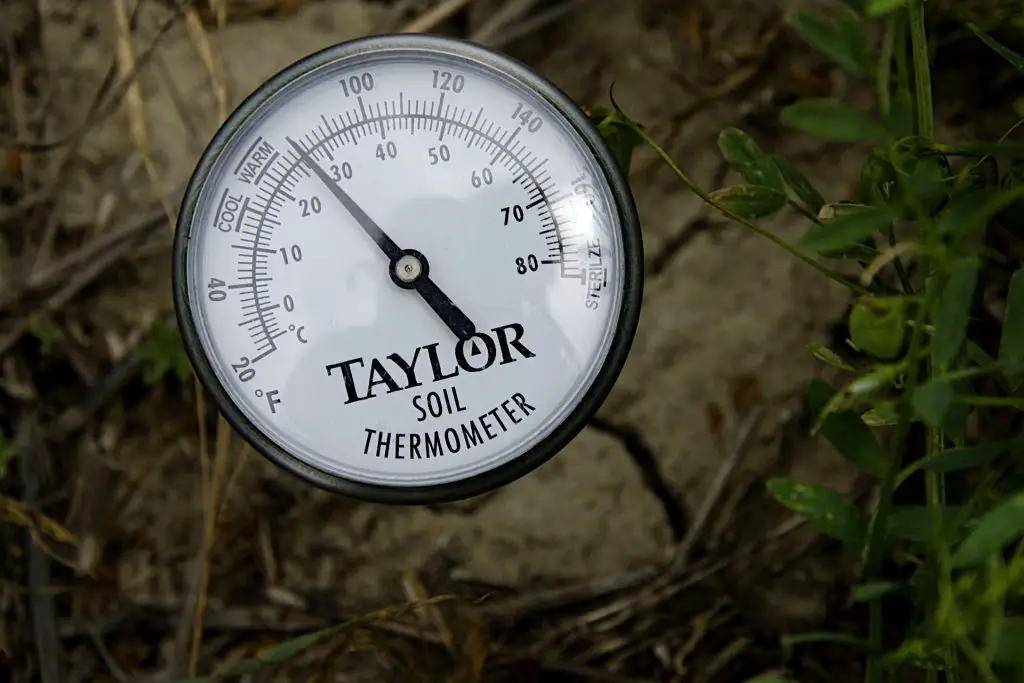 Soil temperature is absolutely key to germination speed. As the temperature drops the germination speed drops to a point where it becomes dormant. The winter dormancy temperature will depend on whether you are planting cool- or warm-season grass.
For cool-season grass, the optimal soil temperature for growing is between 50° and 65°F. Once the temperature drops below 50°F, the rate of development begins to slow, although you may still see some root growth at temperatures as low as 40°F. 
Warm-season grass has its optimal growth potential when the soil temperature is between 85 and 95°F and gradually slow down below this range; nevertheless, the grass's roots will start to develop at approximately 60°F or slightly lower. If the temperature drops below this threshold, the grass will go into a dormant state.
Increasing Soil Temperature 
Can soil temperature be manipulated? Unless you have a sports ground with undersoil heating this is going to be difficult without too many resources. If you have an extensive sprinkler system it may be possible to run warm water through it but it is unlikely to be able to heat the whole area evenly, leading to possible patchy growth.
The other option, similar to insulating which we discuss in more detail below, is to cover the area with clear plastic sheeting or by building a cold box over the area. The glass or clear sheeting should magnify the sunlight to raise the soil temperature. Of course, this would require a decent amount of sunlight.
Type and Variety of Grass Seed
Beyond the issue of soil temperature, different varieties of grass types germinate at different rates. If you are looking to quicken the germination and growth of your lawn then you should look to plant fast-growing cool- and warm-season grasses, dependent on your planting zone.
There are of course many different varieties but choosing the fastest-growing grass seeds for your climate type can dramatically increase the germination rate. 
Cool-season grass
Ryegrass is the fastest-germinating cool-season grass. Both perennial ryegrass and annual ryegrass have germination times of as little as seven days.  They will establish themselves more rapidly than varieties such as Kentucky bluegrass, which can take anywhere from two to four weeks to germinate. 
Warm-season grasses
In terms of warm-season grass types, Bermudagrass is the fastest growing, indeed it is considered the fastest growing of all cool- and warm-season grasses. If you live in a transitional zone this is probably the grass type to use. Buffalograss grows slightly less quickly, and St Augustine slower still, with stolons taking up to 14 days to appear.
It is probably best to avoid centipede grass and zoysia as they germinate more slowly than the other two warm-season grass types.
Pre-Germination and Seed Viability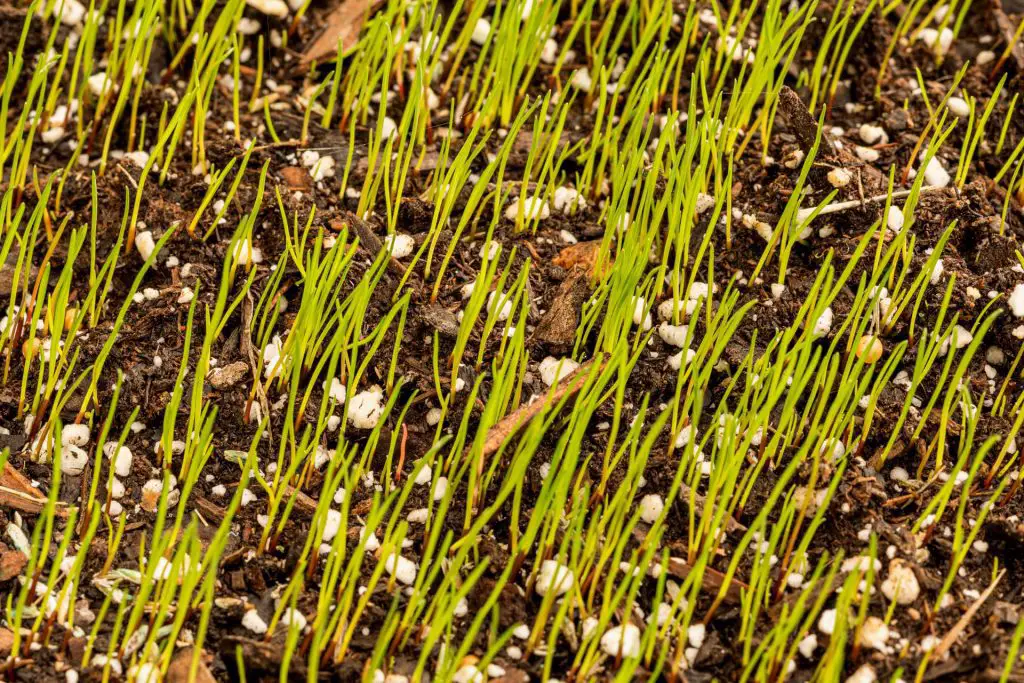 One of the most effective techniques for speeding up grass seed germination is to pre-germinate your seeds. This is simply the process of triggering the germination process before you plant them. This has a number of benefits over and above the fact that you are actually planting live germinating seeds.
One of the advantages of pre-germination is that it establishes the viability of grass seeds. Although germination percentages are, or should be, listed on the seed packaging they are not always accurate and the seed loses some of its viability over time. So if you have had the seed for a while or was packaged sometime ago then the actual germination rate could be considerably less.
A secondary advantage is that by performing a pre-germination technique it increases the likelihood of uniform germination. This will result in the majority of your grass showing top growth at the same time whereas, under normal seeding practice, different areas can sprout at different times. 
The Pre-Germination Process
Soak your seed for 24 hours in water.
Spread the seed out on a clean, dry surface after draining it.
Leave the seed to dry for 48 hours in a warm area around 60° to 65°F.
When little white sprouts begin to emerge from the seed coat, the grass seed is ready to be planted 
Even if you don't want to pre-germinate it is always advisable to check seed viability as you don't want to end up with a thinly covered lawn. You can follow the above pre-germination process, assess the percentage that has germinated, and adjust your seeding amount accordingly.
Coated Seeds
An alternative to pre-germination is to buy coated seeds. These are seeds that have been coated to help with moisture retention which will help with the germination process.
You can also coat the seeds yourself. You can buy seed coatings, usually a natural substance, like a fine powder of clay, that has good moisture retention.
 It is a fairly simple process where you mix up the coating with the seeds in a container, tumbler, or large bucket until the seeds appear to have an even coating of material.
Planting the Seed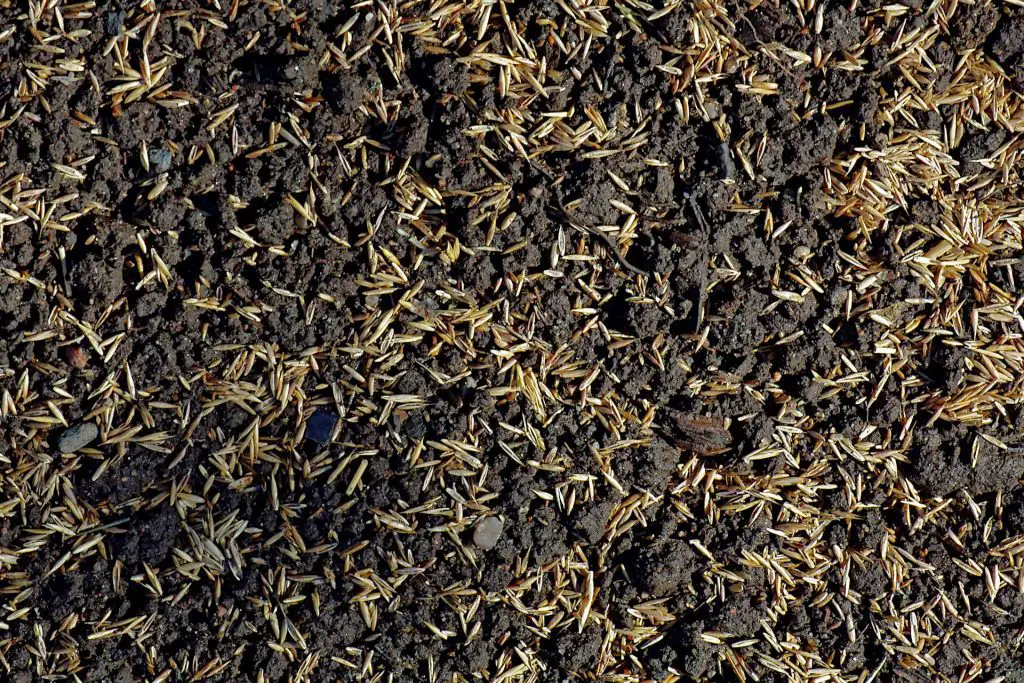 Plant the pre-germinated or coated seeds evenly across the whole area to be covered. Because you have tested the viability you will have a good idea of the purity and percentage viability of the seeds. As such you should use a broadcast spreader or perhaps invest in a hand-powered spreader to help with even distribution.
Dragging
Once planted you should carefully drag soil over the top of the sown seed with a leaf rake, covering the seeds with a fine dusting of soil, no more than a quarter of an inch at most. This will help with insulation if the temperature drops.  
Insulation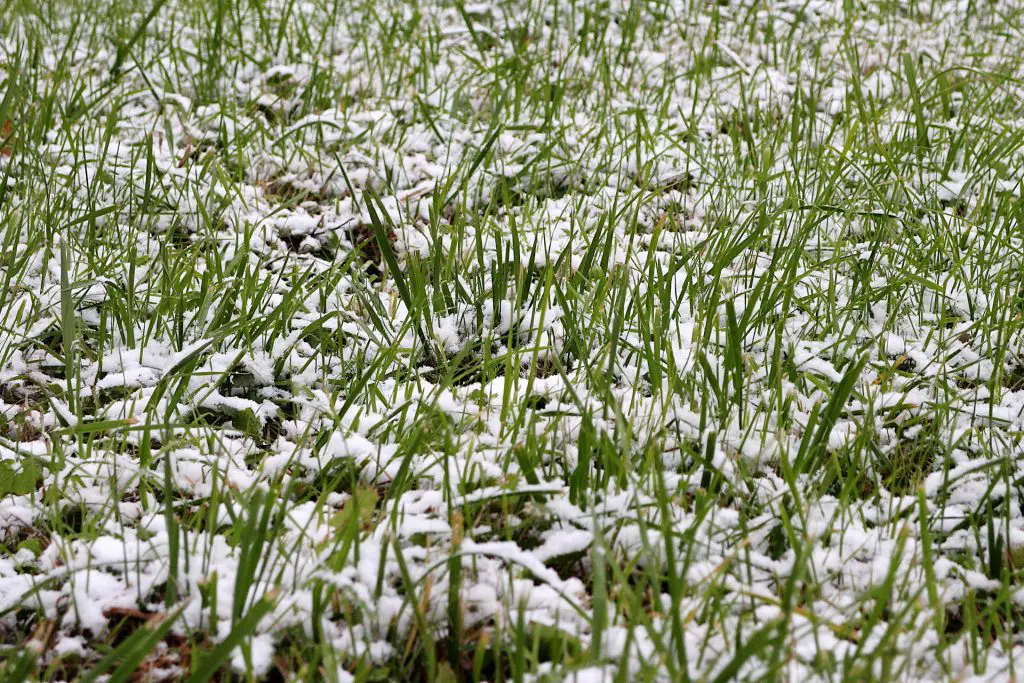 As we have mentioned above temperature is crucial to the speed of germination. If you are concerned that falling temperatures may cause the germination process to slow you can mitigate against this by insulating the area. This is important because frost and freezing temperatures can damage your seedlings, you can mitigate against this by insulating the area.
The way you do this will be down to personal preference and the size of the area in question. Some of the most effective ways of insulating the soil include tarpaulins, transparent plastic sheeting, or even landscape fabric. Other possibilities include the construction of cold frames as well as the use of straw or bark as mulch.
Investing in a soil thermometer is also a good idea. This will allow you to monitor the soil temperature and assess possible slowdown.
Watering Schedule
Once planted one of the most important steps in accelerating the germination process is to ensure moisture levels are adequate as germinating grass is thirsty. However, too much water can also be detrimental as it can cause the seeds to rot.
How much is the right amount? There is no fixed answer as there are so many variables but the determining factor should be the state of the soil surface. The soil should always remain moist. If it pools then the ground is over-saturated and if it is dry there is not enough water. How often and how much you water will depend on these factors. 
Watering for Speedy Germination
Having said that, the way you water can have a significant effect on the germination process. Generally, you would look to monitor the soil surface. This might require you to water three times a day. However, by watering lightly but more often, between eight to ten times a day, you can speed the germination up.
Short Watering Bursts Every Hour
The watering should be short, just enough to wet the ground with the water being absorbed almost instantly. This process prompts the germinating seeds to strive to extract the limited moisture in the soil increasing the germinating activity. It is crucial though that you don't forget to water every hour or hour and a half during daylight, or the reverse effect might occur, and the germination process might stall. 
As your grass grows up to around two inches you will look to water more deeply, with the aim for the top four to six inches of soil having sufficient moisture as the grasses root system expands down.
Stay Off the Lawn
This is probably the most obvious thing but once you have sown your lawn you really need to avoid all foot traffic on the area for at least the first two to three weeks. This is because, at the very least, walking on the seeds will place them under undue stress, which slows down the germinating process,  possibly damaging or even killing the seeds. 
Summary: How to Speed Up Grass Seed Germination
Waiting for your grass seed to germinate and establish itself can be frustrating at the best of times, even more so if you need quick results. Preparation and optimal soil temperature are key as are making sure you choose the right fast-growing grass seed such as Perennial ryegrass for cool-season grass areas or bermudagrass for warm-season grass zones. 
If you want to really speed up the grass seed germination then you can use coated grass seeds or better still pre-germinate the seeds.
Of course to maintain fast-growing grass until it is well enough established you might have to stave off cold weather by insulating the area. Combining some or all of these processes and practices should enable the seed you plant to germinate faster than it otherwise would.
Notes:
Oregon State University: Cool-season or Warm-season Grasses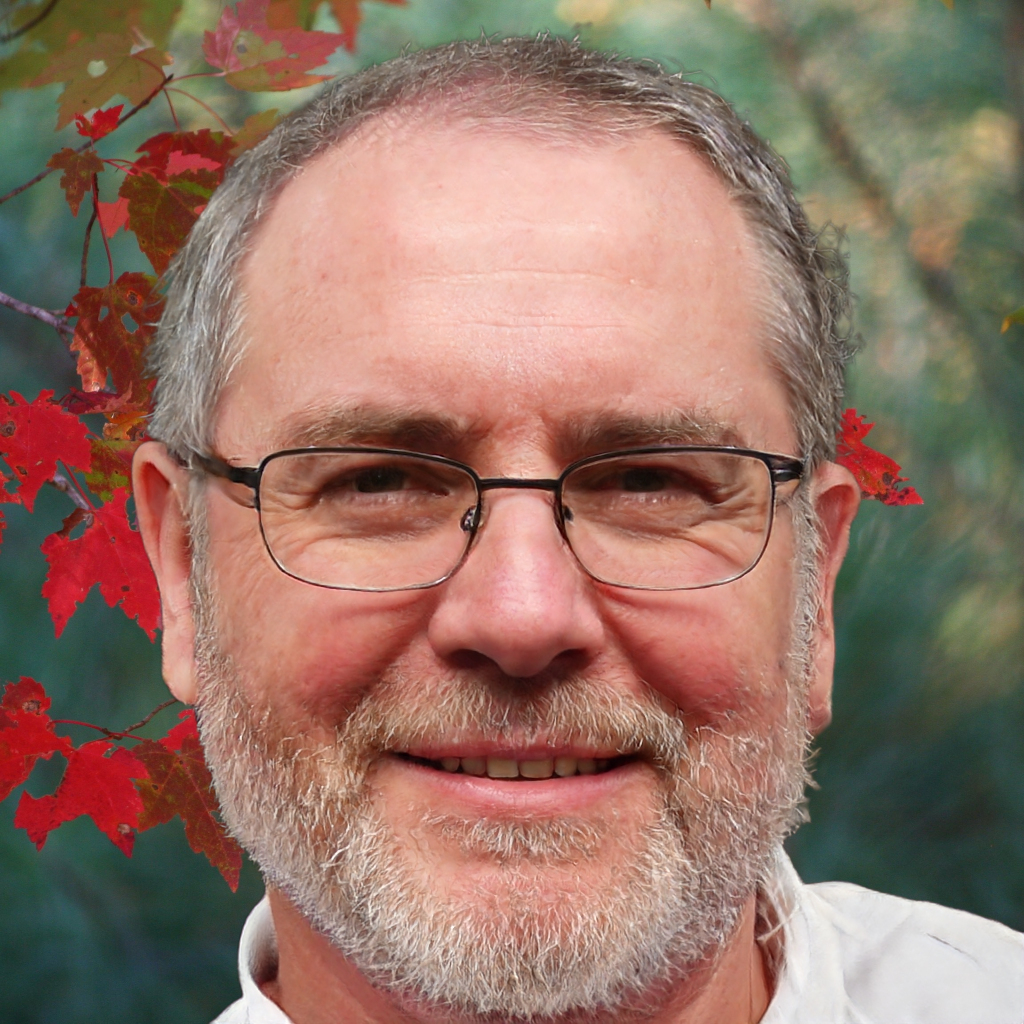 Keith has been involved in the gardening and landscaping industry for the past 21 years. From a jobbing gardener to running his own landscaping services. He is now dedicated to bringing you the latest in gardening news. Read more
More Posts